What you need to know to start off right.
When you are starting out it's important that you make a good first impression with your first renters and then maintain it.  They will decide your fate through your reviews.  Through years we've learned a thing or two about what makes a Vacation Rental enjoyable through our own experiences renting and through feedback from our renters.  The following is a list beyond just the basics, it's the essentials to get you started…
A WELCOME GIFT
Nothing says we are so happy you're here like an actual note that says "We are so happy you are here!" Add a bottle of wine and chocolate or a basket of snacks with that and it's essentially a welcoming committee!  We rented a home in Utah where they left all the ingredients in a pan in the fridge to make buttermilk pancakes with instructions, adorable. One of our neighbors makes a small basket of dollar store toothbrushes & toothpaste. Sounds silly, but it's cute and it works too.
The point is make them feel welcome.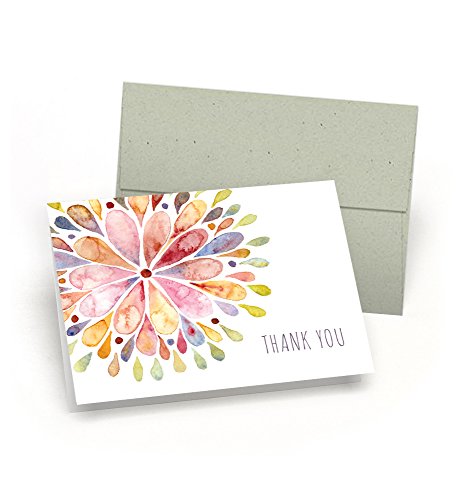 Shopping List:
Thank You notes
Wine & Chocolate
Candy & Snacks
Whatever creative things you want to offer
A GOOD HOUSE BOOK
Make it easy for guests to get around by offering a great Welcome/Instruction House Book packed with information.  Gather the following information and put it all together in an attractive binder.  Your guests will appreciate it.  If you need more help just Google Vacation Rental Instruction Book and you will find many other resources and templates out their.  Below are some of the pages included in ours:
Create & Gather List:
A Welcome Page
WiFi instructions
Important Phone numbers
Local maps to Market, Stores & Banks
Recommendations for restaurants 
Pamphlets & tours
Take out & delivery menus
Pool & Spa Instructions
House Rules
Pool Rules
TV & Remote Instructions
TV Channel List (if you have cable)
Nearest Redbox for movie rentals
When to expect:  trash pick-up, gardener and pool man
Who to contact in case of an emergency
Local Mobile & Local Spa info
Local Golf & Tennis Clubs
Check-out instructions
Personal Chef Info
Chauffeur services
Sightseeing tours
Large & Small Appliance instructions in a file box
MODERN CONVENIENCES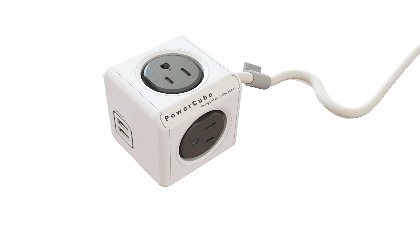 Charge station, Smart TV, universal adapters.  These are nice surprises that guests will not expect but will put a smile on their face and make their life easier during their stay.  We saw these Power Cubes in a small boutique hotel on each nightstand.  They are brilliant and convenient!  I ordered several on Amazon before we checked out!
Shopping List:
Free and fast Wi-Fi
Charging station
Smart TVs (so they sign in to their Netflix, Amazon, Pandora, Hulu, etc. accounts)
Cable (If you don't have Smart TVs)
Blu-ray Player
FULLY STOCKED KITCHEN
Never underestimate the importance of a well stock kitchen in a vacation rental.  My husband and I like to cook and entertain regularly so it just made sense to have our Vacation Rental stocked with the accessories, tools and small appliances we use most in our primary home.  Never did I realize how much our guest would enjoy it too.  It's one of the subjects brought up in our reviews.  I created a list of everything stocked in our kitchen and added to our description on our site.  This way future guests knew ahead what to expect and could plan their meals if they were cooking.
When you begin staging your home for rental, it is difficult to remember everything, but here is the basics minimum of what you should provide.
Shopping List:
Good Knives
Colander
Cutting Board
Tongs
Cooking and serving Bowls
Tray/Platter
Pitcher
Salt & Pepper
Non-stick set of pot & pans
Lasagna dish (9×13″ Baking Pan)
Cookie sheet pan
Kitchen Utensil set& Wooden spoon
Measuring Cup and spoons
Spatula
Wine Opener
Can Opener
Kitchen towels & potholders
Storage containers
Napkins
Ice Trays  (if your fridge does not make ice)
Tableware  (2 Per person you sleep, 2.5 is better)
Dishes
Bowls
Glassware  (2 Per person you sleep, 2.5 is better)
Wine Glasses
Silverware  (2 Per person you sleep, 2.5 is better)
Mugs (1.5 Per person you sleep)
Small appliances:
Coffee Pot
Tea Kettle
Blender
Toaster
Hand mixer
Food Essentials:
Coffee
Tea Bags
Sugar
Salt
Pepper
Powdered Creamer
CLEANING AND HANDY SUPPLIES
Shopping List:
Washer and dryer
Iron
Ironing Board
Portable Hampers (1 per bedroom)
Small trash cans (1 per room, 1 per bath, 1 for washer/dryer area)
Kitchen sized trash can
Garbage Bags
Dish drying rack
Kitchen Towels
Fire Extinguisher
Flashlight
First Aid Kit
Tool Kit
    Cleaning Supplies for guest use:
Cleaning Caddy that will fit under kitchen sink
Windex
409, Lysol or other all-purpose cleaner spray
Clorox Wipes (love these!)
Dish-washing Soap
Dishwasher Pellets
 Toilet bowl cleaner
Paper Towels
   Small Office Supplies:
Paper Pad
Stapler
Scissors
Tape
Extra Batteries  (for Remotes and Flashlight)
BEDROOM MUST HAVES
Closet for hanging clothes with plenty of hangers
It's important to have somewhere for guests to hang their clothes.  If one of your rooms does not have one or you are converting an office or den into a bedroom then a wardrobe purchase is a must.  Ikea has some great ones to fit any budget.
Dresser for folded clothes
Your guests will need somewhere to lay their folded clothes and loose items.  If you are short on space consider providing one of these alternatives:
Media chest with large drawers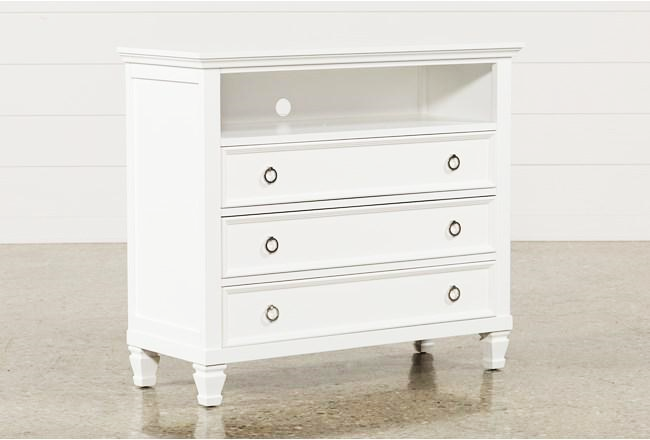 Captains bed with drawers underneath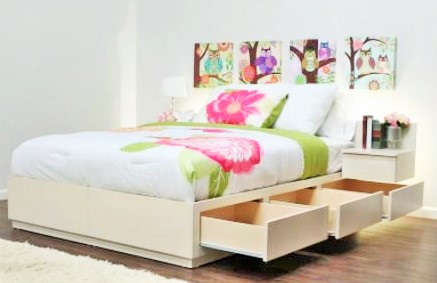 Two large night stands rather than one big dresser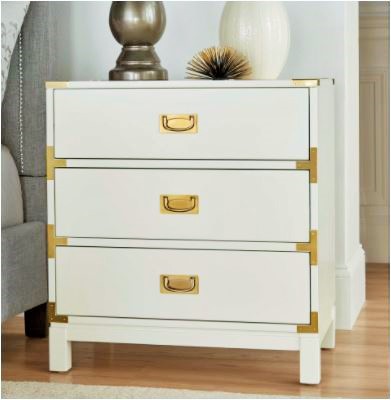 Quality bedding & comfy pillows
Looking at past reviews, one thing that is frequently commented on is the comfortable beds.  Happy sleepers equal happy guests.  Consider Beds that are in the comfort middle, not hard and not soft.  Also as a rule, provide 2 sets of sheets per bed.  Not only will your guest appreciate it if they have to change the sheets but it will save you in cleaning cost during high turnover seasons.  Always wrap your mattresses with bed bug covers.
BONUS: Down Comforter & Pillows:
I like to provide Down and Down-alternatives bedding.   Providing Down pillows and Comforters wrapped in a zipped protector in the closets for people who are not allergic.
Attractive Bedding:
Look at the beds in pictures from two major hotel chains, where would you rather stay?  Quality neutral bedding from this decade please.

Nightstand E
ssentials
I thought everyone used their phone as an alarm these days, but a renter taught me differently.  We had an Amazon Prime deliver one overnight.  Better to spend $25 and have an alarm clock than leave a bad taste in our 6 week guest's mouth every morning.  Its a basic, we should have had it, my bad.
Also we notice that although our plugs our 15" from the nightstand, guests were moving the bed to plug their phones in behind the bed.  So, be prepared and supply a discreet power strip on your nightstands.
Shopping List:
Wardrobe (if you don't have a closet)
Hangers (all uniform, not leftovers from home)
Furniture with drawers
White bedding (you'll thank me when it comes time to get stains out)
300 count minimum, 600 count best.  (You want them soft and very washable)
2 sets per bed (no skimping)
Quality Pillows (at least 2 Per Person you sleep)
White bedding (you'll thank me when it comes time to get stains out)
300 count minimum, 600 count best.  (You want them soft and very washable)
Quality Bedding / Comforter
Bed Bug  Mattress (wrapped, zippered & sealed)
Extra Blankets for cooler weather
Alarm Clock
 A lamp for each night stand
Easy access to a plug (again, power cube – brilliant)
BATHROOM MUST HAVES:
Hotel Quality Towels
Just like we discussed in linens, the same rule applies here.   As a rule, provide 2.5 per person you sleep of each a Bath Towel, Hand Towel and wash clothes.  If you sleep 4 for example, 4 x 2.5 = 10 of each, sleep 6 x 2.5 = 15 of each towel, sleep 8 x 2.5 = 20 of each, etc.  We all know ladies need at least two towels and if one falls on the floor you need a backup.  Again, your guests will appreciate it and it will save you in cleaning cost during high turnover seasons.  If you want to go over and above, supply hospitality robes.
Hotel Quality Pool Towels
If you have a pool, lake or beach you should offer pool towels.  NO Drug Store Quality pool towels please!  Get quality pool towels and they will last longer, keep from fading and absorb more so they can use less.  Make sure they are washable and dyes won't run (yep, lived it).  Pool towels give you a nice decorating opportunity too.  You can display them creatively to add to your motif or lay them on chaise lounges for a spa feel.
 Amenities & Toiletries
I've discussed this with other Vacation Rental owners and no one can agree.  Travel size Shampoo Conditioner, soaps, etc. or full size?   Personally, I like full size because I am nitpicky and have never like the quality of hotel toiletries.  They always seem to dry out my skin and hair.  But you have to pick one! Hospitality sized toiletries are readily available online at sites like HotelItems.com, AccentAmenities.com and Amazon.
I read a review once where traveler complained "they didn't even supply a bar of soap to wash our hands" – not worth a bad review or being so mean to your lovely guests!
If you have a bath tub, offer bath salts or bubble bath.  Set pretty containers of cotton balls and Q-tips, it's another lovely opportunity to decorate at minimal cost that guest will appreciate.  Our home is in the desert so we supply inexpensive sunblock for renters who forget.  When its 117° outside, guests are very grateful.
Hair Equipment
I've heard discussions about providing Curling irons and flat irons, I totally disagree.  A blow dryer that does not actually have to touch someone's hair is great.  Anything else is unhygienic.  What if the cleaning crew accidentally forgets to clean the flat iron after each use?  God forbid, what if a guests finds tangled or burnt hair on a curling iron?  UGH!   That is one less star for you on your review.
Shopping List:
White Towels (again, you'll thank me when it comes time to get stains out)
2.5 Per person you sleep
Bonus:  Hospitality Robes
Quality Pool towels
2 Per person you sleep
Blowdryer
Shampoo
Conditioner
Liquid Bath Soap
Cotton Balls
Q-tips
Bath Salts/Bubble Bath
Sun Block
Lotion                            
Bath mat
Toilet brush
Toilet plunger
Toilet paper
Squeegee for shower doors
Small trash can
In Shower no slip mat (for those who like them)
Lysol spray         
BOARD GAMES, BOOK, MUSIC & DVD LIBRARY
At Christmas time everything listed is at its lowest price.  Head to Target or Walmart and stock up.
Shopping List:
Board Games
Cards, several decks
Dice
Books & Magazines
Music CDs (If you have a player)
DVDs & Blu-ray player
DVDs & Blu-ray Movies
POOL & OUTDOOR SUPPLIES
We inherit so many pool floaties every year, including an 8 foot pool octopus.  I think people don't read the list of amenities we supply, but we certainly hear about how much people like them.  Purchasing a new supply of good quality pool floats every year is good policy and creates fun for our guests.
 Shopping List:
 Pool Skimmer
Pool Towels
Pool Toys & Floaties
Pool Rules
Pool Lifesaver
Bar BQ
Propane Tank
Long Neck lighter
Bar BQ Utensils
If you spend a little time in your house you will find more things that will make your homes essentials list.  As you listen to what they like or never mention, your list might change.  Likewise, put yourself in a vacationing family, couple, group of men or women's position and anticipate what would make their time in your home wonderful – then do that!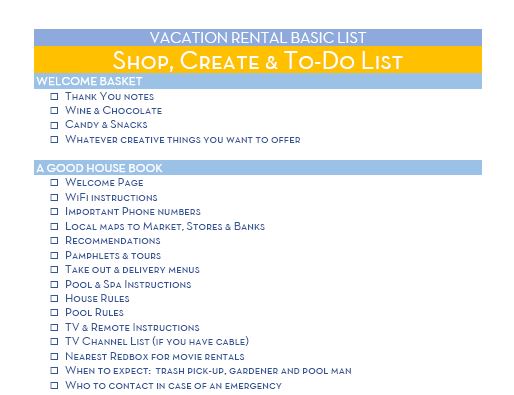 I've attached a printable Vacation Rental Basic List to make it easier.  Vacation Rental Basic Checklist
Thanks for stopping by,

Deisi Vazquez
www.DVIdecor.com
[email protected]