Probably one of the most common questions I get asked from clients is "do we need 3D drawings?" or "Are they worth it?" When we discuss CAD 3D Renderings or modern "Drawings".  My answer is always the same… "It depends".
Yes….
If you are not a visual person
If you cannot make up your mind on a finish or hard surface and have big bucks on the line
If you are tearing down walls or embarking on a gut renovation
If your designer is telling you are about to make a big mistake that you cannot envision
If you are indecisive and only seeing the room virtually will help
Not really….
If you are just changing finishes
If you are just space planning or laying out furniture differently
If you are installing new lighting
If you are accessorizing what you already have
But there are exceptions to any of these.  Personally I feel the need to put on paper any project I start in my own spaces but it's a compulsion and not always necessary. The cost can run between $75-200 per hour for professional drawings.  Depending on complexity can take 3 hours for simple drawings to 20+ hours for complex drawings.
Forget the cost, never underestimate how much 3D Drawings can save you.
Here are 3 examples where drawings were crucial…
Recently, I had a client that openly admits she is indecisive and then gets bored easily.  The client had done a full gut remodel of her Master Bath only 5 years before and already hated it.  She now wanted to make the shower smaller, add plumbing, move a window, potentially remove an expensive spa tub, change the lighting, cabinetry and add a make-up vanity.  The decisions she made changed daily.  She did not want to use a portion of the budget for drawings.  When she finally got overwhelmed with indecision, she asked for them.   I gave her 5 elevations with every combination of change she was considering.
Seeing a space completed with the finishes and textures in place makes all the difference.
She was able to decide on which layout she could live with and decide what finishes made her happy.  The cost of 5 hours of drawings were nothing compared to the $15,000 in changes she would have made and hated.





Sometimes, seeing is believing.
A smaller example, a client had just purchased a new home on the beach.  It was adorable but she wanted to update the built-in and add some built-ins of her own.  The client wanted to fill a niche with a solid door armoire.  I disagreed explaining that the room would not look balanced and no matter how I explained it she could not envision it.
In 2 hours I created very simple drawings with only details enough to show her what I meant.  When she received the drawings she called me immediately saying "thank you for saving me from making a very expensive mistake"
I was able to show her how that her best options were:
Put glass doors on the top half doors
Open it with glass shelves
Open it with glass shelves with mirrored back
…using glass and mirrors, created visual balance in the room with the window on the right.




Putting the cart before the horse…or the furniture before the remodel
On a larger scale, another client had purchased very modern furniture and accessories for a very not-modern house.  They showed me what they had purchased online and were overwhelmed with how to get from where the room was – to where they wanted it to be.
I insisted on drawings because there were so many directions it could go in.  By adding the furniture purchased into the room drawings, they could get a clear picture of the finished product.  The drawings helped them make some tough and potentially expensive decisions very easy.
BEFORE: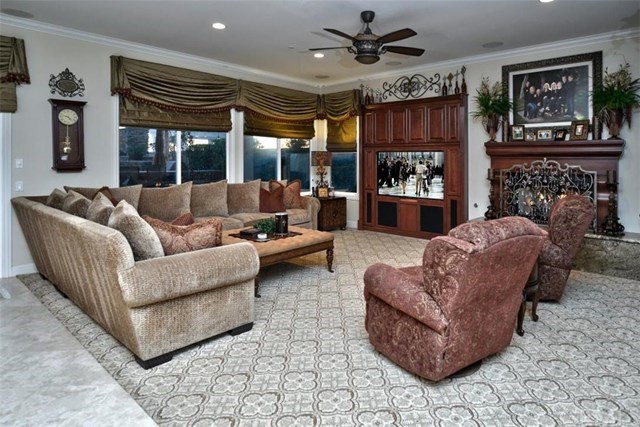 Option 1:  Their original plan when they purchased the home… to simply paint wood white and tile the fireplace.  They were very unhappy with how they thought it would turn out.  Desperately, they wanted an extreme makeover.

Option 2: Add a wet bar, move TV, replace fireplace surround

Option 3a:  Complete overhaul of floors, fireplace, Lutron controls, built in wall unit and new lighting.

Option 3b: Complete overhaul of floors, fireplace, Lutron controls, built in cabinet and shelves with new lighting.

What did they choose?
Plan 3B after…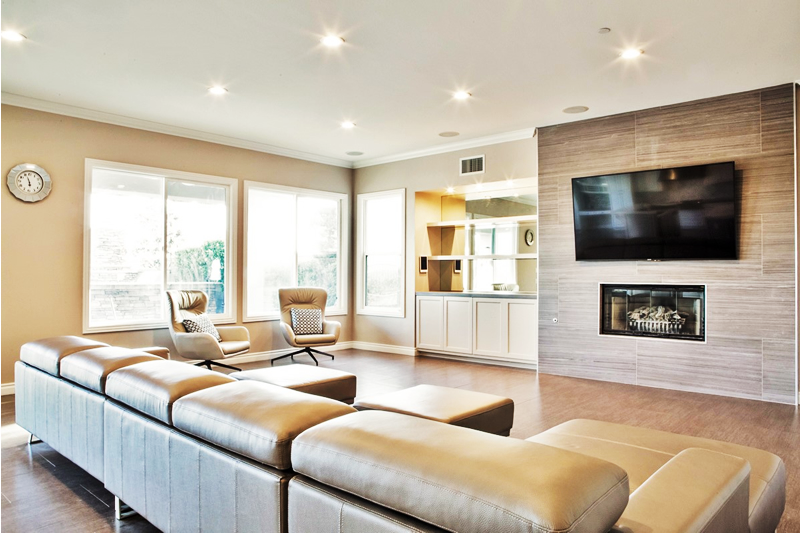 Ironically, the furnishings they purchased that we designed the room around went by the wayside.  The room inspired them to buy all new furniture.  They opted to change the white sectional for a leather taupe ultra-modern with mid-century chairs.  A bit too monochromatic for me, but I was able to accomplish what they hired me to do, transform the room, and they were very happy – my work here was done.
Thanks for stopping by,

Deisi Vazquez
www.DVIdecor.com
[email protected]