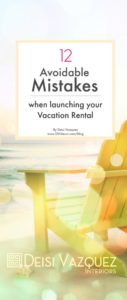 I consider big mistakes as missteps and miscalculations that can cost you money and/or ratings. Small mistakes are ones that cost you time and inconvenience.  Some I have learned from personal experiences and some from watching others.  If you can avoid them, you will save yourself time, money and grief before you even start.
Big

HUGE Mistake #1: Reusing old Furniture
When homeowners first purchase a home, the cost up front can feel outrageous in just the down payment, fees and closing costs alone.  Then to have to fork out even more money to furnish their new rental for "other people" can seem ridiculous and the need to save wherever possible causes their inner cheapskate to come out.
To this end, they fill their vacation rental (their investment may I remind you), with old leftover, inherited or mismatched furniture to economize.
This is a big mistake, huge mistake!  Homes that are uniformly and tastefully decorated and appeal to everyone have a much higher chance of catching the eye of potential renters than one that looks like the Sanford and Son's living room.  If you aren't standing out then you are not seen.  If your home is not seen, then you are not making money (or coming out even).  Money invested decorating can lead to big dollars in rentals for years to come.
By definition, decorating a home for vacation rental is a form of staging.
Decorating a home intentionally by capturing regional character to ensure rental appeal of prospective guests is what I call Vacation Home Staging or Rental Staging.  Buying a vacation rental and deliberately neglecting to complete your investment with the interior design and décor is like having one foot out the door – you're not in but you are not really out.
This is an investment! Treat it like one.
Big Mistake #2: Buying "small" appliances
Until you get your first bill from a Rental Agency or Cleaning Crew after a guest leaves, you cannot know how exorbitant cleaning costs can be. Cleaning crews charge by the hour, a small capacity Washer can only wash 4-5 bath towels at a time. This does not include all the sheets, throws, pool towels and kitchen towels that need to be washed as well. Do the math!  You may be paying them to literally sit around waiting for the laundry to dry so they can fold them or finish making the beds.
When buying a Washer and Dryer you may be tempted to buy the least expensive small capacity set for your rental home. But from experience, if you a pay a little more up front, you pay a lot less in cleaning fees that add up to thousands in the end.
Buy a large capacity washer and dryer so they can wash as much as possible in each load!  We saved $600 upfront buying smaller but paid out and extra $25 an hour in cleaning fees every time a guests used the house – in less than a year we would have made up the difference in cleaning cost savings.
This was a rookie mistake – I hate to even admit it. 
Big Mistake #3: Taking your own pictures
Higher quality pictures equate to a higher attraction rate and more bookings. Hiring a professional photographer is an investment and money well spent. Statistics show that rental homes with more attractive pictures rent more often. Real Estate Photographers charge anywhere from $300 -1000 depending on the size of your home and how many pictures you need. It's a sound upfront investment you potentially only have to make once.
Good photography also shows renters that you are seriously committed to your business, as well as, raising the perceived value of your home which equates to higher rates.  Cha-ching!
Big Mistake #4: "Cheaping" out on major conveniences
Large-screen TVs, Blu-ray player, movies, board games, puzzles, and a few books or magazines go a long way toward making renters happy.  Even more, Smart TVs with built in Netflix, Hulu, Amazon Prime, Pandora, YouTube, etc. can go a long way when comparing your house amenities to other rentals.
We made the mistake of what my husband and I call "cheaping out" to save $40 on DVD players instead of Blue-ray – it didn't take long before we replaced it after several renters asked about it. Do yourself the favor of buying the a little higher end and the latest current technology so you don't have to replace it when your bargain basement technology deal is outdated in 2 years.
BIG TIP: Head over to Target and Walmart after the Black Friday crowds go down and stock up on the years popular movies for $5 & $10.  Keep the house stocked with a fresh library this way.  Take advantage and buy new board games, TVs, stereos, DVD players, etc.
Big Mistake #5: "Cheaping out" on minor conveniences
Do NOT bring your old linens and towels to your vacation rental.  Would you like to go to a hotel that gave old mismatched sheets and towels to their guests?  I would be apoplectic!   Make sure everything is uniform and consistent throughout the house, believe me this will make your life easier.  Personally, I like 600 count sheets – they are soft and comfortable but sturdy enough to be washed several times per week during peak season.
Microfiber sheets are inexpensive but they are glorified polyester and everyone knows they are budget – don't do it.  My one exception is for twin beds, kids don't seem to mind them and they are stain resistant.
BIG TIP: Costco carries nice quality hospitality style towels that twice a year go down to under $6 – that's the time to stock up!  For sheets, HomeGoods, Marshalls, and TJ Maxx carry good quality nice brands for fair prices.
Big Mistake #6: "Cheaping out" on solid furniture
Homeowners may be tempted to entirely furnish their rental with reasonably priced Ikea, but buyer beware.   I like Ikea as much as the next gal, but renters won't be as inclined to use coasters on your furniture as they are at home.  Moreover, renters may move furniture and use pieces for reasons other than what they were intended, so they need to be sturdy and stable enough to stand up to "unexpected" situations.  After all the bed isn't the only place to fool around. 😉
You don't have to break the bank, but you do have to buy decent quality furniture if you don't want to have to replace it every 1 or 2 years.  Ask yourself, can this piece take several "sittings" – then you will have your answer.
You can't call your home a luxury rental when you "cheap out" on the small things.
 Big Mistake #7: Spending too much or too little on outdoor furniture
This one is a hard one for me.  Our home is in the desert, so we have to replace the outdoor furniture every other year.  The sun beats down and temperatures rise in the summer upwards of 117° – it bleaches and breaks down everything.  Even the highest quality furniture will show signs of wear, tear and fading in a matter of a few months – but inexpensive Walmart furniture won't even last the season if it's not pulled in when not in use.
Buy moderate priced furniture for your rental – pieces that won't break the bank to replace every couple of years.
Big Mistake #8: Going Overboard on "regional character"
One of my biggest peeves is a "vomited" spaces.
Like clocks?  Put one clock or 3 clocks, but 12 clocks is too much!
Like sunflowers?  Beautiful kitchen curtains trimmed with small embroidered sunflowers are lovely – but a dozen different sunflower pieces, pillows, bedding and wallpaper is too much!
Like gallery walls? Great, one gallery wall works – but if every wall and your hallway is a gallery wall – it's too much! If everything is trying to stand out, then nothing is standing out.  There is a lot to be said for negative space.
Same rule applies for themed vacation rental homes.  Your local character (beach, mountain, desert, etc.) should absolutely be incorporated into the décor of your rental to attract renters – but don't overdo it when small touches are enough.
Even professional pictures can't overcome bad design and it will cost you money in rentals, or more the lack of them.  Your goal should be to appeal to the majority of renters.
My one exception to this is period homes – in the desert, particularly Palm Springs, Mid-Century homes are sought after to rent, buy and live in – people expect the décor of these beautiful homes to match.  As long as you are sure the period appeal will attract renters year round, then I give you my blessing. 😉
TIP: Consider the rule of 3, in regard to color, shapes, objects, accessories, artwork and furniture
– explained simply and well in this article on the Welsh Design Blog.
Big Mistake #9: Not maximizing your property to sleep as many as Regulations allows.
Every city that allows Vacation Rentals has a Short-Term Vacation Rental Maximum Occupancy Regulation. Some cities go by square footage, while others go by bedrooms.
Example for 3 bedroom 1000 sf house:
Big Bear City allows a vacation rental to sleep 1 person per every 100 square feet of a home regardless of bedrooms = 10 person Rental Occupancy
Big Bear Lake allows 1 person per 200 square feet regardless of bedroom = 5 person Rental Occupancy
Palm Springs is 2 persons per bedroom = 6 person Rental Occupancy
La Quinta and San Luis Obispo are 2 persons per bedroom plus 2 = 8 person Rental Occupancy
Miami is 2 persons per bedroom, plus 2, up to a maximum of 12 persons, excluding children under 3 years of age.  = 8 persons + 4 toddlers/ 12 person (or more) Rental Occupancy
Same house in bedroom and size but completely different Occupancy Regulations.
Every city is different so do your homework (before you buy).  By sleeping your cities max you can charge more as suggested in this MY VR article discussing pricing.   Sleeping even one extra person can add an extra $50+ per night to your vacation rental income.
Big Mistake #10: Automation! Automation! Automation!
If you do not live near your vacation rental, this is a must for you!
Remote entry, remote pool heating, remote air and heating – all make homeowners and renters lives much easier and will save you money that will offset the initial cost.   If you have a local property manager, they are no doubt charging by the hour when needed.  Hundreds of dollars can be racked up in the summer having them go to the property to turn on the air conditioning so that the house will be cool when renters arrived. Then returning to make sure it is turned off when they leave.  Same procedure with pool heating in the fall and winter months.
By switching to remote AC & Heating – you can control it from your smartphone or schedule it in advance.  Remote pool heating and automation can be costly up front but it quickly pays for itself with its management independence, efficiency and time saving in the palm of your hand.
Also, you can keep an eye for spikes when rentals set your air conditioning at 65° or pool heating when they opted out of it.  Have you ever had a $1700 pool heating bill?  Yep, pass out, go ahead… I'll wait.
Big Mistake #11: Not childproofing your TV remote
Put a tough PIN number on your TV remote.  Most cable company contracts are 24 months – if a renters orders a channel you are stuck paying it for 2 years.  From experience, when you think it's good enough, it may not be.  Consider asking your cable company to not allow any changes made through the remote.
A renter wanted to watch a tennis tournament that wasn't on the regular Tennis Channels we offered.  She decided to order it through the remote without asking or consulting us. We did have a PIN in place but somehow she bypassed it.  The cable company would not budge. The agency we were with at the time refused to charge her because they didn't want to lose her as a return customer.  We were stuck paying $750 over the next 2 years. OUCH!  That one still hurts to think of it.
Big Mistake #12: Not seeing you or your property through Renter's eyes
Keep in mind, your renters are coming to your home for their vacation. Most renter's I have found are lovely and forgive small inconveniences because they are so happy to be away on vacation.  That being said, be mindful of your customer service and details of your property. "Good enough" is not necessarily good enough when it comes to ratings. Leave a Thank You note, a bottle of wine, a basket of inexpensive snacks, water, candy or popcorn. Be gracious instead of defensive when possible assuming they are not opportunistic or high maintenance. Go out of your way to be considerate, empathetic and happy to welcome them – it goes a very long way.
One last word,
I learned a big lesson in grace and understanding from one of my renters.  She had rented our home for the BNP Paribas Open a while back – at the time we were transitioning out of a local agency and the last contacted renter with them was in our home (the renter coincidentally in Mistake #11 ). They contacted the Agency for an additional night and the agency gave it without consulting us.  (Are you seeing a pattern with the agency yet? :/ ) The agency would not recant or back down.
Holy cow!  Def-con 5 anxiety mode took over trying to figure out what to do.   I called another rental home in our neighborhood to see if they had availability and they, by the grace of God had the one night available.  We booked it for her.
Although I thought I had found a good solution, I dreaded calling my renter – my hands shook anticipating getting an ear full.  She not only understood but eased my mind.  She agreed it was all inconvenient but she appreciated the lengths I went to try to fix it before I contacted her and thanked me for crediting her 10% of her stay.  The old agency's irreverent behavior ended up costing us over $500 in extra rent, cleaning fees and what we discounted but what I learned from my renter was priceless.  She even wrote us a 5 star review.  I think of her a lot when I want to lose my mind and remember her grace.
Thanks for stopping by,
Deisi
DEISI VAZQUEZ
WWW.DVIDECOR.COM
[email protected]